亚搏在线登录DERFLEX专业Abs sheetmanufacturer in China, with experience over 15 years.
Abs plastic sheet boardis popular product which is used as signs, led billboard, advertising and so on.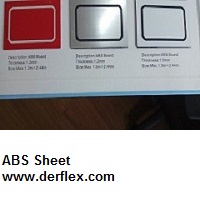 Product information
1. Color thickness≤0.1mm;metal thickness≤2mm;finished product thickness 1.mm,1.5mm and 3mm(non standared≤0.2mm)
2. Common width:0.6*1.2m Max size: 1.38*2.44m
Or
Excellent chemical resistance
Excellent abrasion resistance
Excellent electrical properties, moisture and creep resistance
ABS has good chemical and stress cracking resistance to inorganic salt solutions, alkalis and many acids (Except strong oxidizing acids)
ABS is easily machined to close tolerances, is tough, dimensionally stable and may be thermoformed.
Easy processing and cutting. Easy cutting, sawing, stamping, engraving, bending and pasting.
Main applications ofAbs sheets:
1.Abs plastic sheet can be as signs, badges, nameplate, advertising light boxes, billboards, gift modals, advertising, decoration, space guide plate, plate, floor board and so on.
There are many other applications ofAbs sheet. DERFLEX would supply most competitive Abs plastic sheet products. If you are distributor ofAbs plate board,或对我们的兴趣products, please contact us freely.